If you've been searching for "The One" online only to be shocked and disgusted when an army of "the wrong kind of guy" showed up instead, there are four sneaky things you're probably doing wrong without even realizing it. Relationship expert Elizabeth Stone explains how you're secretly sabotaging your chances of meeting Mr. Right online . . . and how to transform your profile into a "Mr. Right Magnet."
My online dating screw-up stories could fill several juicy, humiliating novels.
For years I searched, waited, hoped and dreamed about Mr. Right with the fevered intensity of a hungry cheetah hunting the last gazelle within a hundred miles.
Time after time I allowed myself to get my hopes up about meeting a new guy from the Internet—and over and over again, they were dashed like a sailing ship crashing on the rocks in a storm.
After banging my head up against the wall for what felt like the thousandth time, I went to work trying to figure out how why I totally failed at online dating. What I learned would change my life.
If you've ever tried online dating with hope in your heart only to have that hope mutilated and squashed by jerks and rejection, then you already know it's time for a change. Read this article all the way through and then go watch this insightful video presentation put together by my friend Mike Fiore to find out how you make Mr. Right powerfully drawn to you, starting right now.
Before things got better for me, they got much worse.
Once, in a single week, I received 6 dick pics, one novel-length email about a guy's desire to have 8 children with a woman willing to home school them and a request to meet a man twenty years older than me in the middle of the night.
The final straw came when a man who I thought might be "The One" turned out to have lied about nearly every detail about himself. After he said a few little things that didn't line up and kept refusing to meet me anywhere near where he said he lived, I had a bad gut feeling, so I Googled him and found out that he was a violent ex convict with a rap sheet as long as my arm.
After years of struggling to get even a basic coffee date with a nice, normal guy, only to be met with con artists and weirdoes, I became so discouraged that I deleted my dating profile and swore off the whole process. I thought I was doomed to troll the supermarket for eligible bachelors.
Six months passed while I licked my wounds and tried (and failed) to meet guys in the real world.
One day it hit me like a lightning bolt. I must have been doing something to attract the wrong kind of men without realizing it. I combed the Internet for information about what guys actually WANTED to see in a woman's profile. I had never treated my profile very seriously before, and it was enlightening to find out that there are some really common mistakes I was making.
On a whim, I made a fresh, new profile incorporating everything I had learned. I got a message right away. My heart leapt into my throat as I looked over a profile that read like my dream man created it.
Sure enough, he was the real deal. Smart, handsome, and kind. I swooned when he got down on one knee a year and a half later. Today I'm proud to call him my husband.
So… what was I doing wrong in those dark years before I met my husband online?
If you're struggling with online dating like I was, there are several things that you might be doing wrong (don't worry I was too, it's not your fault).
I Wrote My Profile For What I Wanted Instead of What Quality Men Want
When I first started Internet dating, I put a whole bunch of stuff down about what I wanted in a man. It was like I was ordering a restaurant meal for one. "And I want him to be kind to animals and smart and prince charming and blah… blah… blah…."
This is the exact wrong approach. Truth be told, exactly zero men are looking at your profile and thinking, "wow, if I could pretzel-fold myself into this woman's picture perfect male ideal, I would be SET FOR LIFE."
Quite the opposite.
My long, detailed, "man-wanted" list made me look like a hard-to-please, uptight perfectionist that any normal guy would run from as if being chased by a hungry momma grizzly bear.
The even scarier part is that I will never, ever, know how many wonderful men I turned off with this approach over the years.
I Put Up Photos That Repulsed Great Guys While Attracting Jerks
I mistakenly threw up a few semi-flattering, recycled Facebook photos and called it done. I know I'm not the only one who has done this. Tons of great women underestimate the crucial, make-or-break importance of putting up THE RIGHT profile photos in their attempt to meet a good man.
I learned the hard way that photos of your dog repel men, so do photos of "girl's night," sunsets or anything else that doesn't present you in a realistic, but attractive light.
I Didn't Know How To Make The Online Flirtation Progress Into A Real Date
Maybe you're like me. I didn't want to seem pushy or masculine, so I felt self conscious and hesitant about suggesting even a simple coffee date.
So, instead of setting up a casual meeting, some women allow weeks (sometimes months) to pass while they hope that a man will ask them out. They stay in contact with him and allow their fantasies about what he is like take root and grow. When and IF a meeting actually occurs—their happy fantasy about what the guy is like turns out to be a total work of fiction, or worse, he's a total freak show.
I Subconsciously Filled My Profile With"Red Flag" Details That Drove Away Good Guys
That whole "I'm looking for prince charming" statement is a good example of the exact wrong thing to write in your profile. Mike Fiore talks about that more in this video, but long story short, this kind of statement is bad news because you're setting the guy up from the start to conform to an impossible standard.
It also gives the wrong men a "how to" manual to con you, since you're giving away too much about what they can say to get you right where they want you.
I mean, no man I've ever met has loudly (and truthfully) announced that he has arrived to be MY perfect man. It's just not realistic, and frankly a little unfair to expect. The very suggestion makes my husband practically fall out of his chair with laughter.
The good news is that these mistakes are easy to fix.
Truth be told, it's easy to make good man come out of the woodwork to court you, woo you and make you feel safe, happy and cherished, in just the way you always dreamed he would—once you understand a few more key things about how to present yourself.
Go watch this video right now to learn how to create your own man-magnet online dating profile that draws high quality men to you like bees to honey… no matter how many times you've tried and failed at online dating in the past..
At the beginning of this article, I told you about a video presentation that my friend and esteemed colleague Mike Fiore put together.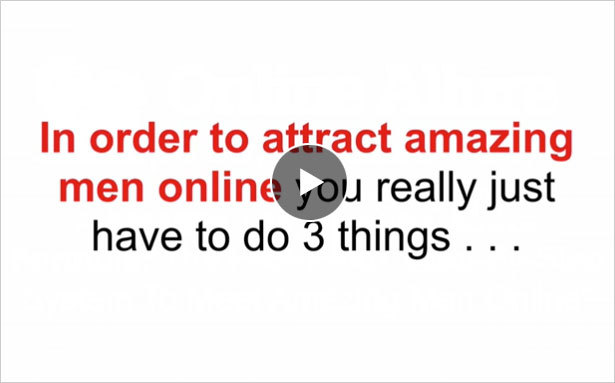 No matter what you're doing now, it's time to put it down and watch that presentation right now.
Learn the surprising ways men perceive (and misunderstand) little innocent phrases that you probably have in your profile right now. Mike describes exactly what you need to differently to have great men flooding your inbox, wanting desperately to get to know you.
Find out what I mean and go watch it now.
Best,
Elizabeth Stone
P.S. Don't miss out as Mike Fiore explains step-by-step how exactly your online dating profile comes off to men.
Click here to meet Mr. Right online.
P.P.S. You don't want to be like me and risk accidentally turning off Mr. Right because of a simple, innocent phrase that he misunderstood.